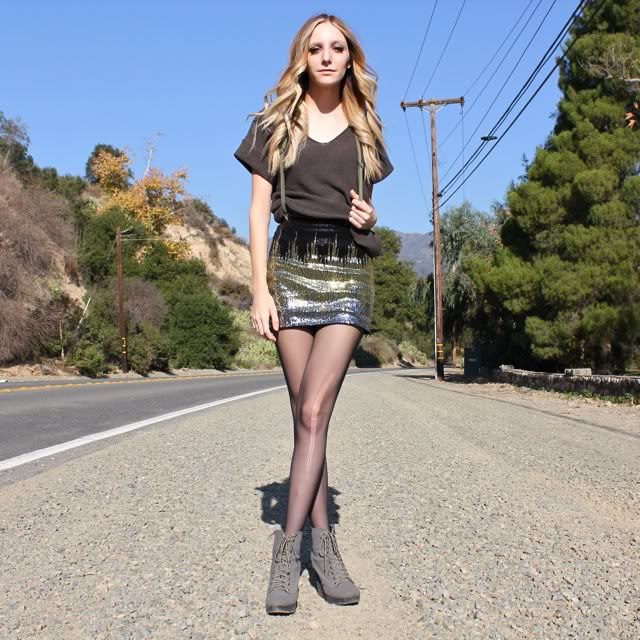 1.
Short-Sleeve Loose Knit Sweater, LAMB & FLAG, $44 (Buy it here!)
2.
Olive Green Suspenders, UO, $30
3.
Sequin Body Con Skirt, H&M, $30
4.
Shredded Tights, Target, $12
5.
Gray Lace-Up Platform, Deena & Ozzy, UO, $90
This
gray top is the second piece gifted to me by LAMB & FLAG, and just like the first, the material is absolutely noteworthy. I dabble in several styles and typically can't enjoy blending in (as I'm sure many of you fine ladies and gents don't), so I decided to take this great basic and pair it with a sequin body con that shines with all of it's might. Adam and I shot this look in one of my favorite locations that I like to believe is my own little secret, but the flock of aged figures drilling their hogs into the asphalt and the run down homes that I found still occupied tell me otherwise. Either way, we attempted to scout a prime location and must have pissed off some reckless driver in the mean time... Let's just say, that during these shots, we spent a good 15 minutes laughing at the black pick-up truck that kept driving by with a middle finger pressed up against the glass. Hey sucker, you looked pretty cool while road raging it.